Need help? Click here.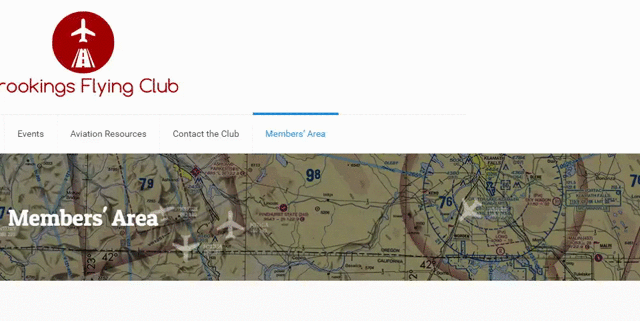 Announcements
Current COVID-19 Policies
Face covering requirements

All persons are required, at all times, without exception, to wear a face mask while in or in the vicinity of the Brookings Flying Club hangar.
All persons aboard club aircraft are required to wear a face mask while on board the club aircraft when two or more people are aboard the aircraft.

Masks may be removed in flight only for safety of flight reasons. If masks cannot be worn continuously, flights must terminate as soon as practicable, even if masks are put back on later. Members should not plan to fly with others (including for lessons) if they cannot wear a mask for the entire duration of their time in club facilities and aircraft.

Face masks must be worn properly, fully covering nose and mouth and tightly fitting the face.

Masks which do not form a seal are not sufficient. For example:

Bandannas
Scarfs
Improperly fitted mask
Other loose fabric

If your mask slips down, it does not fit properly, and is not sufficient.
If you feel air escaping the sides of your mask, it does not fit properly, and is not sufficient.

Face shields are not an adequate replacement for face masks.
Face masks made of transparent or non-filtering material (anything that lets light through) are not sufficient.

Masks with exhalation valves are not sufficient.

The club provides free disposable face masks in the hangar. If you do not have a qualifying mask, you may use the club's supply as needed for your activities in our facilities. These masks are single use and disposable.
The club recommends that only medical grade masks are used. Cloth face coverings are not recommended.
As of the last update of these regulations, the State of Oregon requires masks to be worn in all public indoor spaces. The club interprets this to include the building at our fuel farm.

We require that members comply with all federal, state, and local COVID-19 mandates.

Maximum occupancy

No more than 2 people shall occupy the main hangar floor area at a time.
No more than 1 person shall occupy the hangar office at a time.
No more than 1 person shall occupy the fuel facilities at a time.

Social distancing

Social distancing is required at all times to the maximum practicable extent whenever in or around club facilities.
Anyone in the club hangar must not come within 6 feet of anyone else, except when necessary for brief periods for flight instruction purposes.

Aircraft

All people who utilize the club aircraft must sign a COVID-19 waiver from the club.
Members must wipe down all of the aircraft's interior touch surfaces after each flight.

This must include at a minimum, but is not limited to:

Yokes
Door handles
Window handles
Seat belts
Seat cranks / adjustment handles
Instrument knobs and buttons
Air vent adjustment grips
Switches
Circuit breakers
Flap selector
Throttle/mixture/carb heat controls
Keys/ignition switch
Rental binder
Pen
Fuel card
Control lock
Pitot cover
Fuel sample jar
Fuel selector
Trim wheel
Parking brake handle

The club will provide disinfectant wipes for this task.

Screening

Members shall complete a club approved screening prior to reserving the aircraft.

Fully COVID-19 vaccinated members exempt.

Members shall complete a club approved screening prior to opening the hangar doors to remove the aircraft.

Fully COVID-19 vaccinated members exempt.

Screening criteria may be periodically updated and reflected in the interactive form.

Symptoms

Nobody experiencing symptoms of COVID-19 or a respiratory infection may visit or use any club facilities.
Additional Advisory Recommendations
Anyone experiencing symptoms of COVID-19 should immediately contact their healthcare provider and seek testing.
Members who have visited club facilities or interacted with any club members in the last 14 days should report any COVID-19 symptoms or positive test results to the board of directors immediately.
Instructors are advised to limit students to no more than 2 unique students per 7-day period.
Face shields are recommended in addition to required masks.
Club loaner headsets should not be used. Members are advised to purchase their own headsets. The club recommends Lightspeed headsets such as the Zulu.3 or Sierra.
Members should monitor their temperature at home for 72 hours prior to any use of club aircraft or facilities, including the fuel farm.
Flight instructors should configure the cabin vent system for maximum fresh airflow during all dual lessons.
Members should use a high grade filtering mask such as N95 when in prolonged close contact with people such as during flight instruction.