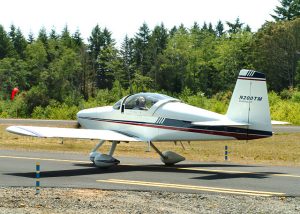 Become a Pilot
Aviation is a huge world with many different facets. Becoming a pilot is your first step into this community, full of diverse individuals and exciting opportunities for adventure.
Be warned, this journey will not be easy. However, we've taken the time to outline a basic plan to help guide you through the steps.
For our purposes, we will refer to the process to obtain a Private Pilot license. Though the FAA offers two license classes lower than this (Sport Pilot, Recreational Pilot), each with their own set of restrictions, we suggest that most people jump straight to becoming a Private Pilot.
Get acquainted with the local aviation community.
Come up to the airport on a sunny day. Chances are, you'll run in to one or two pilots who are there to take their planes out, or just stopping through for gas. Perhaps strike up a conversation with a few of them. You never know what helpful tips you might get, or interesting stories you might hear.
You can also visit the airport during a flying club meeting, the dates and times of which can be found on the calendar page. Don't be shy – we're more than willing to help out!
Unfortunately, this hobby doesn't come cheap.
Due to many factors, the cost of aviation has remained quite high throughout the years. Obtaining licenses may be one of the most costly aspects of aviation.
The prices below are general estimates only and should not be taken as any sort of guarantee. 
Let's take a look at some average prices:
Aircraft Rental – $80-$150/hour (includes fuel – aka wet)
You'll have to pay for the aircraft based on the time the engine is running. This rate includes fuel, and because you're renting an aircraft there's no need to worry about the cost of maintenance. It's all factored in.
BFC Rate: $110/hr (check by-laws addendum A for most current rate information)
Instructor Fee – $40-$60/hour
This is about the going rate for ground or flight instruction.
Aircraft Renter's Insurance – $100-$350 annually
When flying an airplane, it's important to make sure you're covered insurance wise. They are expensive machines with the potential to do lots of damage to themselves and the environment around them.
Flying Club Dues (if applicable) – ~$300-$800 annually
If you train with a flying club such as BFC, you may owe dues in order to remain a member. Additionally, flying clubs often have initial fees in order to first become a member, which vary widely based on the club.
BFC Rate: $25/mo (check by-laws addendum A for most current rate information)
Ground School & Materials – $200-$500
Whether you choose to take a guided lecture-based class with a group of people, take an online course, or self-study using books, ground school is an important aspect of learning to fly.
Amazon Links: ASA Private Pilot Kit (Part 61) (If you are already enrolled in or plan to attend a ground school, please check with the course instructor on which materials they will be using before purchasing)
Class 3 Medical Certificate – $100-$150
You will need to obtain a medical certificate in order to fly. Only some doctors, known as AMEs, may issue medical certificates. Refer to the FAA's website for a list.
Headset – $100-$1200
A good headset can save you a lot of discomfort in the long run, and make flight training more enjoyable. In this category, you can decide whether to stay budgeted or splurge on something nicer. It's really up to your individual taste. Definitely make sure that you're ready to go in to flying before you buy your own, though.
Purchase links for a few headsets, in order of price:
Passive Noise Reduction – ASA HS-1 – KORE KA-1 – David Clark H10-13.4 – QT HALO
Active Noise Reduction – Lightspeed SIERRA – Lightspeed TANGO – Lightspeed ZULU 3 – Bose A20
Most aircraft rental services, including the Brookings Flying Club, have rental / loaner headsets available.
Written Exam – ~$150
The written exam is administered on a computer at an authorized testing center. Expect to pay around $150 for the exam fee.
You also may need to travel to the testing center. The nearest testing centers to Brookings are currently in Roseburg, Crewsell, and Corvallis.
Checkride (Practical Test) – $350-$650
This is the final test which determines whether or not your are issued your pilot's license. The cost is per attempt, whether or not you pass. The fee is set by individual examiners and may vary significantly based on location and circumstances. Your instructor can help you find an examiner and their price.
Flight Bag, Charts, Sunglasses, Foggles, iPad, EFB App, etc
There are many more expenses that could potentially come up based on how you train and your instructor's and examiner's preferences. Always save a little extra just in case. The last thing you want to have happen is running out of money right as you're about to finish training.
---
As far as the hourly costs, many people look at the FAA minimum hour requirements for a license and decide that they will save for 40 hours of flying. However, you should be aware that the average amount of time taken to obtain a private pilot's license is closer to 60 hours, and that figure generally increases with age. Some of that time will be dual (with an instructor), and some of it will be solo.
In total, you should be prepared to spend anywhere from $8,000-$13,000 on average to obtain your pilot's license. 
It is highly recommended you save up before you start training. You don't want to run out of money part of the way through – this can often result in long breaks, which cause you to lose skill and end up costing you more in the long run.
Better to find out sooner rather than later.
Before you can solo as a student, or obtain your full pilot's license, you need to pass a medical exam from an Aviation Medical Examiner. We suggest getting this as one of your first steps, in order to make sure you don't have any disqualifying medical conditions. You wouldn't want to find out after you've already spent money on training!
Get the knowledge you'll need to pass the test and be a safe pilot.
There are many different ways to complete ground school. You can obtain a lectured group course such as one offered by the Flying Club. You could take an online course from a website such as King Schools. You could self-study using books and websites. No matter what you choose, make sure it fits your learning style and that you feel you will be able to absorb the information needed.
Be sure to "Contact the Club" using the button at the top of this page for assistance in planning out your instruction. If you are going to be training in Brookings, we can help!
Find the instructor that's right for you.
Locating an instructor can sometimes take a little legwork. You'll want to make sure you find one that is skilled, matches your availability, doesn't conflict with your personality, and that you feel comfortable working with and learning from.
The club can be a big help here. Just contact us using the link at the top of the page and we'll help you find an instructor.
Learning the Basics.
Most of your initial training will be focused on learning the basics of takeoff and landing, as well as safe operations in the vicinity of the airport. You will also learn some basic emergency procedures. During this phase of your training, you'll mostly be in direct vicinity of the airport and you'll always have an instructor in the plane next to you.
Get it done.
Around the time you finish your pre-solo training, you'll probably want to aim to have your written test done. The written test result is good for some time after you take it (see current FARs for specifics), so it's generally advised you complete it sooner rather than later. Having the knowledge down will also help accelerate the rest of your training.
Step 8
Post-Solo Training
Take to the skies.
By this time, you'll probably be alternating between dual flights (with your instructor) and solo flights. You'll be doing things such as cross-country flights to other airports, practicing different types of takeoffs and landings, and beginning to memorize information you'll need for your oral exam.
This is often many people's favorite part of flight training, as your first few solos are often regarded as a magical, freeing experience.
Polish up.
A couple of weeks before your checkride, you'll probably be well into checkride prep mode. This will involve a lot of repetitive practice, and memorization. You'll probably be spending as much time in the plane as possible, trying to prepare up until the last second.
Everything in your training up until this point has prepared you for this, and it's time to show your skills.
Show your skills.
The checkride is the practical test you need to pass in order to get your pilot's license. It involves an oral exam as well as a flight with a FAA designated pilot examiner.
It's usually a most-of-the-day affair, scheduled a month or more in advance. There is a lot of information available out there about checkrides, but generally, you'll start by going through paperwork to make sure you're qualified, then proceed to an oral exam, break for lunch, them come back and do the practical test in the airplane. If you mess up and the examiner decides you've failed the checkride, you'll be told immediately and have the option to stop and try again later.
All checkride standards are available in the Airman Certification Standards document from the FAA.
Once you have your Private Pilot's License,a good jumping off point is always to get your instrument rating. Your same CFI may even be able to train you! From there, you can go on to get a commercial license, flight instructor certificate, and even become an airline transport pilot.