The Brookings Flying Club is Located at the Brookings Airport (KBOK) in the very southwest corner of Oregon on the coast just 10 miles north of the California border in the town of Brookings, Oregon. It is evenly spaced between the Crescent City Airport, (McNamara Field) to the south in Crescent City, California, and the Gold Beach Municipal Airport to the north in Gold Beach, Oregon. The airport is located 1 mile NE of Brookings. Field elevation is 462 feet. The airport manager can be reached here.
The Brookings airport currently has no instrument approaches, although Seattle Center can usually pick you up on radio/radar right around pattern altitude. To depart IFR, you will likely need to contact Flight Service by phone.
The club operates the fuel concession at the airport. 100LL and JetA are available. Fuel is self serve, available 24 hours a day. The runway is 2,900′ x 65′, and is paved, with pilot activated lighting. CTAF/Unicom is 122.8, and pattern altitude is 1,460′. Traffic is left traffic for runway 30 and right traffic for runway 12.
The KBOK AWOS-3 provides up-to-the-minute airport weather observations via:
Telephone: (541) 412-8682
Radio: 132.025 MHz
Internet: NOAA Aviation Weather Center Updated hourly, or on this page with 5-minute updates.
100LL Price:
$7.34/gal
club members: $7.09/gal
7.19
Jet-A Price:
$7.18/gal
club members: $6.18/gal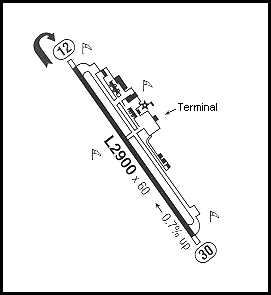 VFR Arrival & Departure Procedures
Brookings Airport is positioned parallel to the shoreline about 1 mile inland from Harris Beach, North of Brookings Oregon.
There is steep terrain to the east which necessitates a right-hand traffic pattern for runway 12. Additionally, there is some manageable but generally non-favorable terrain North of the Runway 12 threshold, which may necessitate a steeper than normal approach path.
Caution is also advised when landing on Runway 30, as a perfectly-aligned final approach may bring you quite close to homes on a hill to the east.
Student solos for those inexperienced with the area are not recommended.
All pilots should use extra caution when planning a cross-country flight to Brookings, as weather conditions may change rapidly. The nearby Crescent City Airport has instrument approach procedures in case a diversion is necessary and you are instrument-qualified. In case you are VFR only, Grants Pass Airport (3S8) is a relatively short flight east from Brookings.
Lastly, be aware of wind shear on approach to Runway 30 on windy days. Altitude changes of up to +/- 200 feet have been reported.
Transient parking is available near the terminal building / pilot's lounge, as well as south of the fuel tanks. The fee is $3 per night, and a self-service pay station is located just outside of the terminal building.
Nearby Hotels & Resturants
Due to the steep road leading to the airport, it is generally advised to get a taxi into town. Information about nearby hotels and restaurants are available by calling (541) 469-3181. There is also a poster in the terminal building listing contact details for taxis and other local services.